---
The Perfect Egg Organizer You'll Need At Your House!
The Egg Organizer Storage Box has a drawer design, dust-proof, moisture-proof, and easy to take and carry. The eggs can be easily accessed by simply opening the drawer. Moreover, the hollow design ensures good ventilation and mildew-proof effect.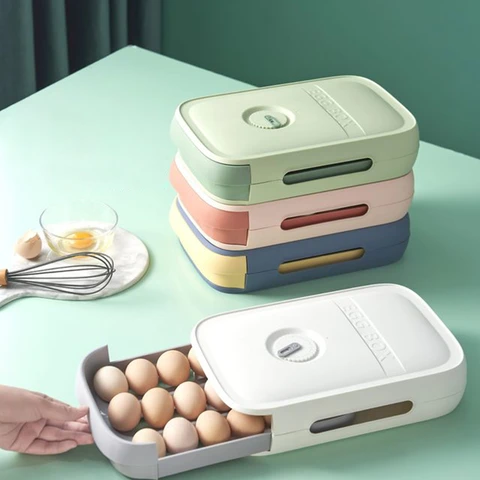 Safe & Durable Material 
The Egg Organizer Storage Box is made of high-quality PP plastic, hygienic and environmentally friendly, BPA-free, sturdy and durable.
New Design & Large Capacity
The Egg Organizer Storage Box can hold 18-20 eggs can be placed on the first layer of the fresh-keeping egg carton, which can save a lot of space and keep fresh. With groove design, each egg can be placed separately.

Overview:
1. Drawer design: compartment storage, breathable design, green material, easy to carry without squeezing.
2. Mesh design: It can be shared and stored. One egg fits the shape of the egg, and it is neat to prevent the eggs from colliding with each other and is not fragile.
3. Overlapping design: overlapping layers, saving space and large capacity, meeting daily use and making full use of every inch of space.

Specification:
Material: PP
Product Features: Covered, can be superimposed
Function: Organize
Storage scene: Dining room, kitchen
Scope of application: Refrigerator
Style: Creative
pattern: Plain
Size Information
32*21*7.8cm

Package Content :
Drawer type rolling egg storage box*1